July's sketchwalk was around the City Hall MRT area. This time it was a whole day event, but I only managed to join the afternoon session. The first stop after having lunch at the Funan was the Central Fire Station. It is definitely one of the most challenging buildings I've drawn.  I got caught in the details and spent more than an hour to draw just one tower of the building…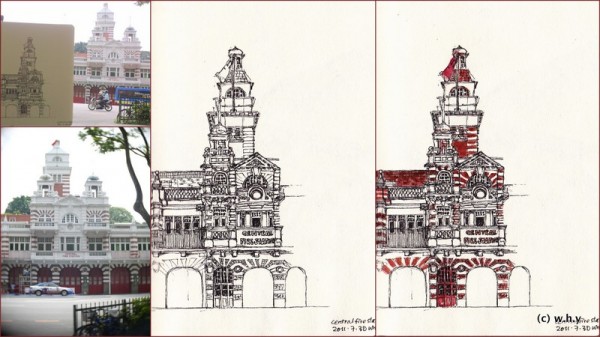 The next stop is the American Church. It is a small church in the middle of the city, and has a very nice  garden.
The final stop is the Peranakan museum. There are so many interesting buildings to draw around the area, will definitely go back to sketch more. I did not sketch the museum this time, because it seems like another challenging building; and after drawing the central fire station I feel like tackling at something 'easier'. I sketched this corner of Loke Yew Street, which reminds me of the Lok Yew Hall of HKU.