I had a wonderful time sketching with the Singapore Urban Sketchers at Club Street for the monthly sketch-walk last weekend. Instead of sketching on our own, we were challenged to collaborate with other sketchers on a panoramic sketch of Club Street. I teamed up with a new friend, Chao, and did the following piece. I didn't think much about it when I started, luckily Chao did some magic and put the drawing into the right perspective and some nice composition. I then went back to Club Street on Monday morning to finish off the last part of the sketch. It was a good learning experience and I really enjoyed sketching with others!

I did three other sketches after i finished the first part of the panoramic sketch, at the same location, as I was attracted by the color of the shop front, and i was too lazy to move my chair :P .
The first one was done with the Koh-I-Noor Magic pencil (red, blue, white) on a pre-colored page of the A5 Monologue soft sketch book.
The second one was sketch directly on the sketchbook with watercolor.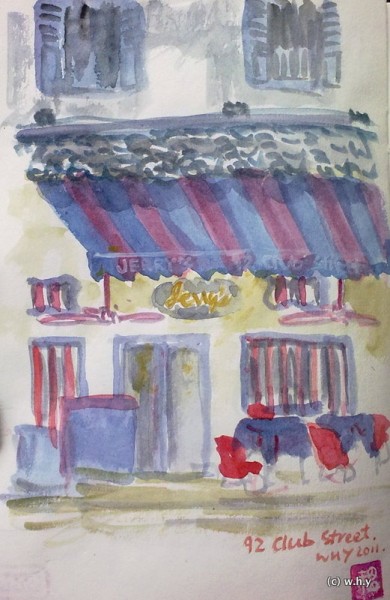 The third one was done on a 4×6″ watercolor paper, using the purple color Staedtler triplus fineliner.
92 Club Street